Back to News
Career at 60? Responsible companies can offer an opportunity!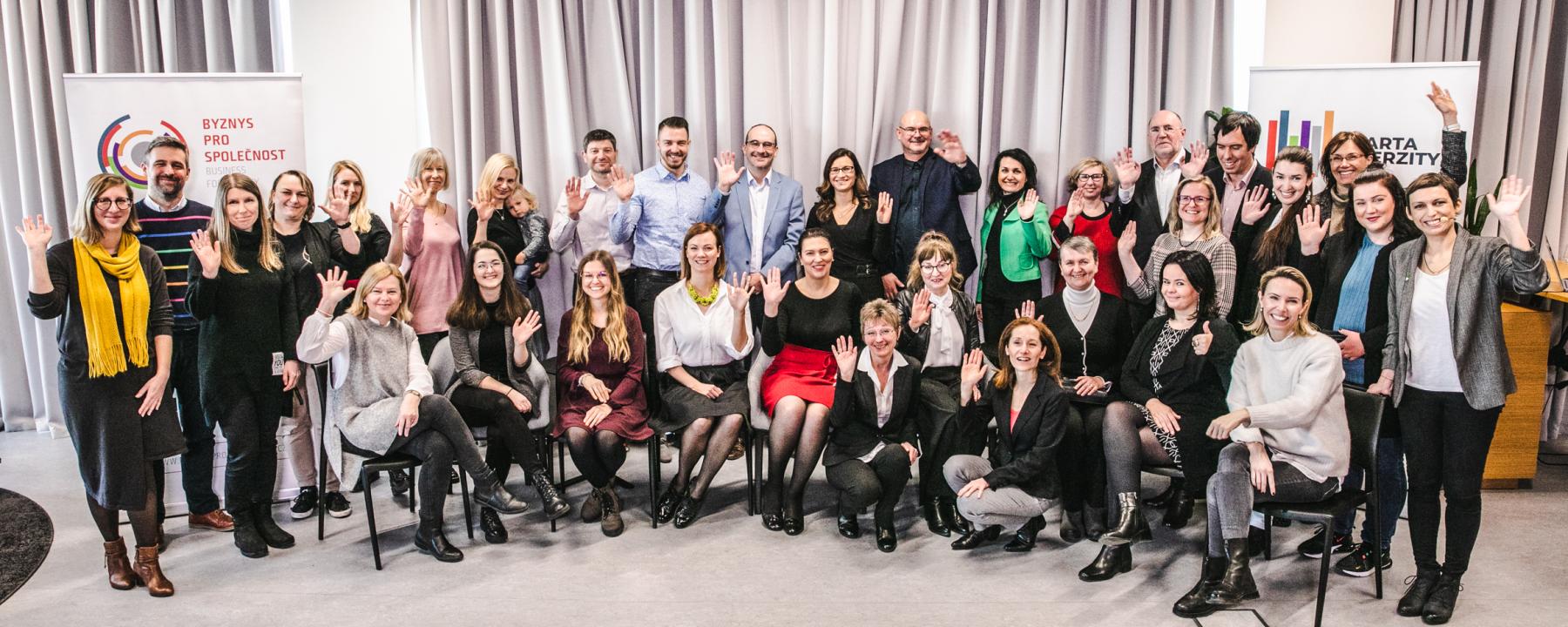 Business for Society (Byznys pro společnost) has been focusing on this topic of age diversity and intergenerational dialogue for a long time. Currently, we also deal with this topic within the Diversity & Inclusion MasterClass project and at the workshop "Intergenerational Dialogue - "Young and Experienced Albert" during which we presented the best practices of responsible companies. The partner of the event was Albert Czech Republic, a signatory of the Diversity Charter, and one of the leading ambassadors of the topic of age diversity and intergenerational dialogue.
"Over the years, we have gone through a process where we have had to carefully and consistently set our diversity priorities and choose our topics. I see the great challenge of diversity in that it covers many topics. We also felt that we had to devote ourselves to everything and be active in everything. But in the end, we chose the path of choosing topics that are key for us in the given situation and our field. Age diversity is one of these topics for Albert Czech Republic," said Ctirad Nedbálek, Vice President for Human Resources at Albert Czech Republic.
With 20,000 employees, Albert ČR stands out for its diverse employee base and offers employment opportunities to employ and support people of all ages. The company strives to create a diverse working environment concerning all employees and their needs in their work and personal lives. "The topic of age diversity is very important to us. Our credo is that we are Albert for everyone. We want all our employees to work well and feel good here. We also reflected on how to improve intergenerational dialogue and intergenerational cooperation. That is why the YAD employee resource groups, or Young Albert and Experienced Albert, were created," said Denisa Maternová, who works in Albert as an Employee Experience & Internal Communication Manager. "Other topics that are key for us are the so-called gender support and gender balance at all levels, as well as a flexible and inclusive working environment, where we also meet students who are not yet 18 and people of senior age," she added.
All generations meet in Albert
Albert ČR brings together representatives of four generations – from baby boomers, Generation X, millennials to the youngest Generation Z. The company strives to connect all these age groups, discuss them with each other, understand each other and cooperate openly. "As we can see, four generations meet here. The last three generations, i.e., generations X, Y and Z, are represented very equally, around 30%. These figures correspond well with the data of the CZSO, which maps data on the composition of Czech society. If we look at the data in detail, we find that the percentage of these generations is similar to the Czech Republic in Albert. Here, age diversity is also reflected in our relationship with customers, which is also extremely important to us. To understand the needs of our customers, we need to know their needs and expectations. It is our employees who can help us with this by representing different generations," said Barbora Vanko, Communications Consultant - PR Healthy & Sustainable in Albert ČR.
The formation of the Young Albert group was helped by inspiration from the Netherlands, where a similar group was formed around 2000. At first, they just informally went out for drinks or a beer after work, but gradually their base of members and supporters increased so much that they decided to formalize it and move it further. This inspired other countries, including the Czech Republic. The aim was to connect young people and get to know each other. We also wanted to find out how to work at headquarters and how to work in stores or distribution centres to help and inspire each other.
The founders of the Experienced Albert group were inspired by their younger colleagues. "We wanted to complement Young Albert and establish a group that would be an inspiration for older colleagues who have more life and work experience behind them and deal with slightly different things related to both work and personal life," said Martina Odehnalová a member of the Experience Albert group, Reward & HR Services Director. "But we don't want to live in our bubble, we want to get to know each other and communicate with each other. It's about the whole spectrum of the age structure across our society," she added.
Program pro všechny generace má i MONETA Money Bank
V závěru panelu vystoupila Klára Escobar, Human Resources Director ze společnosti MONETA Money Bank a představila jejich komplexní program MON-Fair. Program má celkem 5 pilířů: genderová diverzita, rodiče v Monetě, dále podpora zaměstnávání osob zdravotně znevýhodněných a hendikepovaných, podpora LGBTQ+ a věková diverzita. "V období pandemie Covidu jsme se začali věnovat neformálně pečujícím a tzv. sandvičové generaci, kterým jsme poskytovali psychologickou podporu a další poradenství, v čemž i po návratu do kanceláří stále pokračujeme. Naše kolegyně a kolegové sami přinesli další spolupráce generací. Začali jsme důkladnou analýzou demografické situace u nás, abychom mohli najít nejlepší způsob, jak s nimi máme pracovat a komunikovat. Tomu nyní chceme přizpůsobit jednotlivé programy a aktivity v Monetě. V minulém roce jsme například měli velmi úspěšný workshop na téma "Midlife" či "Mezigenerační komunikace". Intenzivně se také věnujeme mladé generaci a mladým talentům, kterým pomáháme začít jejich kariéru a dále se u nás rozvíjet," popsala Klára Escobar jejich cestu k věkové diverzitě.
Odebírejte náš newsletter a neunikne vám nic ze světa Charty diverzity a udržitelného rozvoje.
Úspěšně jste se přihlásili k odběru newsletteru.
BPS – Byznys pro společnost, z. s.
V Tůních 1357/11, 2nd floor
Praha 2, 120 00
Tel.: +420 240 201 195
info@byznysprospolecnost.cz
www.byznysprospolecnost.cz
Co-funded by the Rights, Equality and Citizenship Programme of the European Union