Back to News
Connecting generations in the workplace - responsible companies are an example of best practice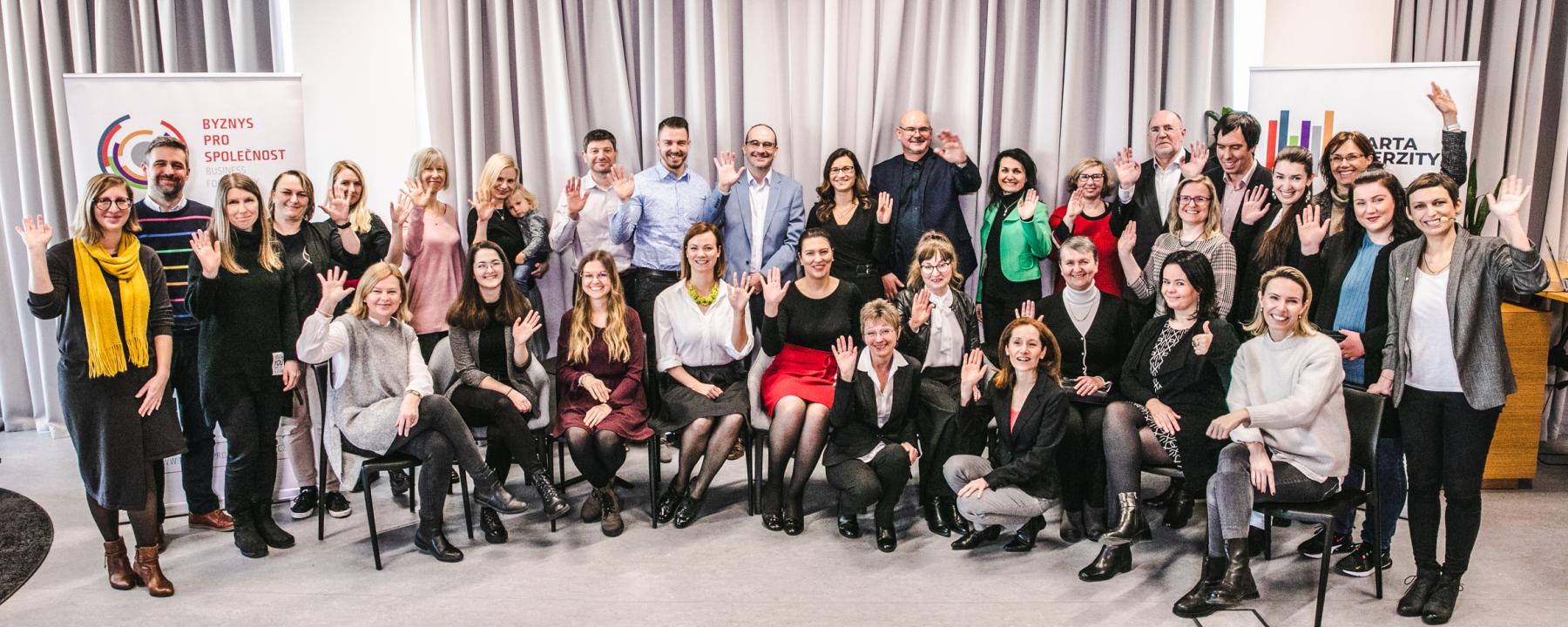 Cooperation of generations in the workplace – Support of different generations – Dialogue and respect between different generations at work – The benefit of multigenerational cooperation for the social and economic sustainability of companies – Second and third careers – Informal caregivers and the "sandwich generation" were all part of the program of the workshop "Intergenerational dialogue – Young and Experienced Albert", which was organized on March 2, 2023 by Business for Society in cooperation with Albert Czech Republic as part of the Diversity & Inclusion MasterClass project, which is supported by the European Union's Law, Equality and Citizenship program.
The main part of the program belonged to Albert Česká republika, a signatory of the Diversity Charter, and one of the leading ambassadors of the topic of age diversity and intergenerational dialogue. The company's Vice President for Human Resources Ctirad Nedbálek presented the most important priorities in the field of age diversity and intergenerational dialogue in the opening part of the program. With its 20,000 employees, Albert ČR stands out for its diverse employee base and offers job opportunities to employ and support people of all age groups. The company strives to create a diverse work environment with respect for all employees and their needs in both work and personal life. Representatives of four generations meet in the Albert ČR company - from baby boomers, generation X, millennials to the youngest generation Z. The company strives to connect all these age groups, their mutual discussion, understanding and open cooperation.
Albert CZ also presented a unique project of the "Young and Experienced Albert" employee groups, including a presentation of representatives of both groups and concrete examples of the best practice of intergenerational cooperation across the entire company structure.
Support for informal caregivers and the so-called sandwich generation, reverse mentoring or mutual learning between generations, second and third careers, these were the topics also presented in the second part of the program by Klára Escobar, Human Resources Director from MONETA Money Bank as part of their comprehensive program age diversity "MON-Care".
Age diversity, intergenerational dialogue and the aging of the labor market population are among the long-term priorities of responsible companies cooperating in the Diversity Charter. And as the workshop "Intergenerational dialogue – Young and Experienced Albert" confirmed, responsible companies represent best practice leadership also in the topic of age diversity, which can be an inspiration for other employers from the private and public sectors.
We invite you to watch the attached recording of the entire workshop and to follow our website www.diversita.cz, where we will intensively communicate the topics of age diversity and "best practice" of our responsible companies this year.
Odebírejte náš newsletter a neunikne vám nic ze světa Charty diverzity a udržitelného rozvoje.
Úspěšně jste se přihlásili k odběru newsletteru.
BPS – Byznys pro společnost, z. s.
V Tůních 1357/11, 2nd floor
Praha 2, 120 00
Tel.: +420 240 201 195
info@byznysprospolecnost.cz
www.byznysprospolecnost.cz
Co-funded by the Rights, Equality and Citizenship Programme of the European Union